A Brief History:
Well I first got into/saw Doctor who half way through series 1 (Dalek) and started watching regularly about a few episodes into series 2. Maybe even before that because I remember really wanting to watch the Christmas Invasion but never did.
Got my first figure (Werewolf) late 2006, and the Cyberman from Asda not much later. I then got the first ever Woolworths 6 pack for that Christmas and started buying in January when I found some of the first wave of series 1 figures in Argos, which was a big surprise! I got the Mutant Reveal Dalek, Captain Jack and empty child and the Auton twin pack. After that I started buying them all the time, always going to argos and I eventually finished all of series 1 wave 1, and most of series 2 wave 1.
Number of Figures:
Series one: 29
Series 2:
Series 3:
Series 4:
Figures still needed:
I still need quite a lot of them, mostly rarer ones, new ones and those old ones I keep forgetting about. A complete list:
Mickey (gun)
Hoix
Red krillitane closed mouth
Space suit Doctor (1st Head sculpt, jagged fringe)
Sarah Jane and K-9
Black and blue Scarecrow #3
General Staal
Magnus Greel and Mr. Sin
Purple Clockwork droid
Army building:
More than one of a figure that can represent different aliens:
3x Slitheen
5x Ood (2x Series 2, Glow in the dark and a Natural Ood from series 4)
3x Weeping angels (2x Neutral, 'Weeping' and one 'Screaming' at the moment)
8x New Series Cybermen (3 without gun, one with gun arm, CyberLeader, Cyber Controller (Yellow Eyes) and Cyber controller (Blue eyes) and a Damaged Cyberman.
And lots of Daleks!
Other:
Empress of the Racnoss
Face of Boe
Satan pit Lift
Genesis ark
Reaper
Cyberthrone
Tardis Playset
Flight control Tardis
Pictures: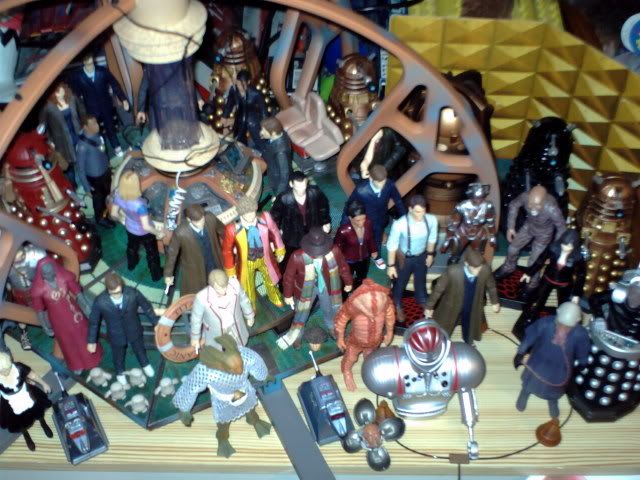 -My shelf how it used to look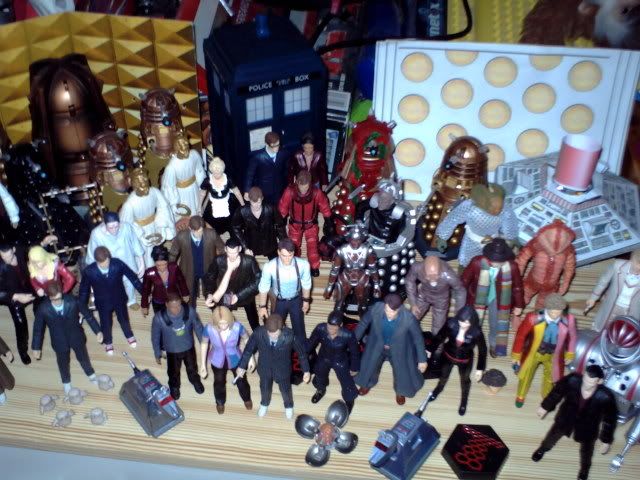 -Even OLDER, but definatley since Christmas, check out the Torchwood figures.
NEED TO TAKE THESE
-And how it looks now (I took away all series 4 and put them on the wondowsill)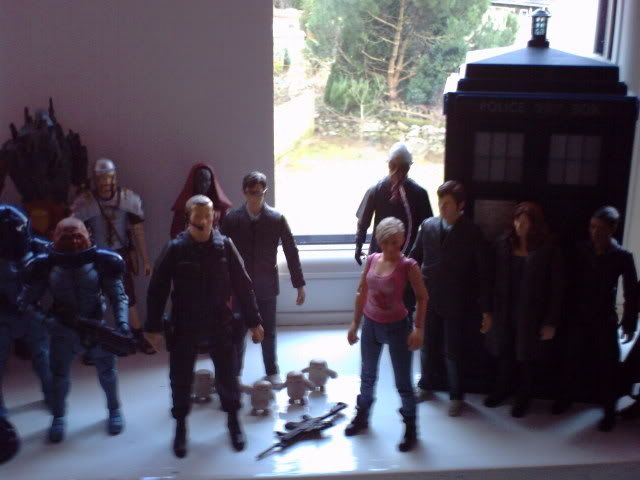 My shelf as you come into my room, containing 12" figures, Cybermen, Sarah Jane adventures and a few random ones. (Sorry for the tissues there, I must have had a cold and got bored and just started folding them, ha ha! They were obviously still there when I took the photos.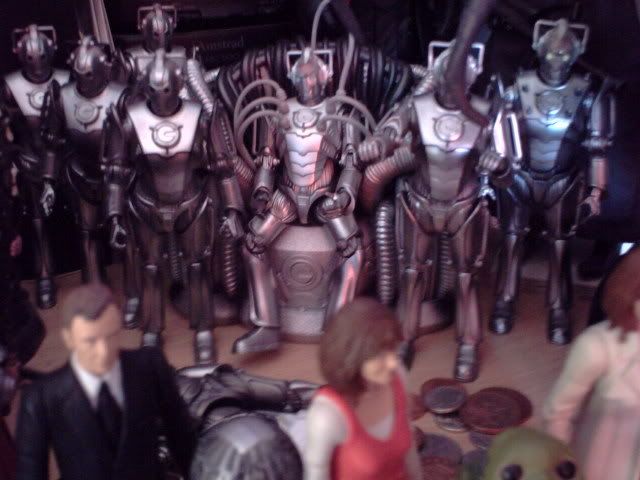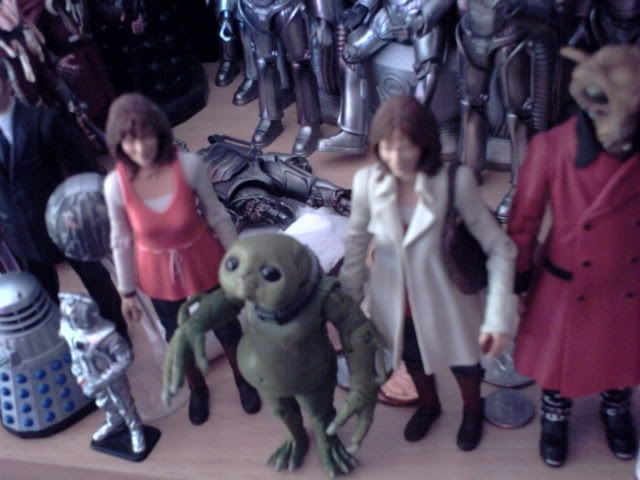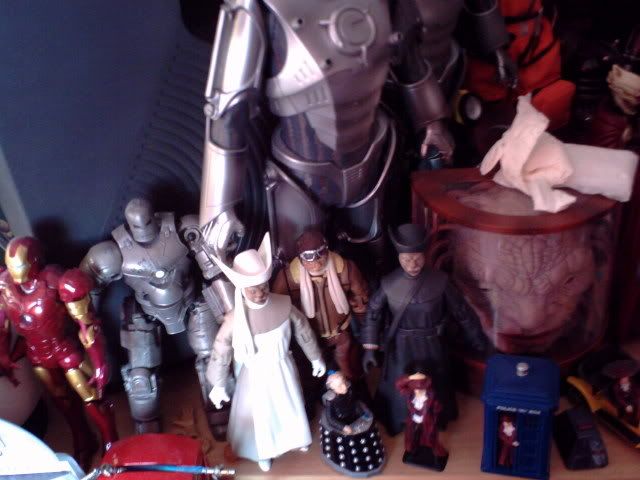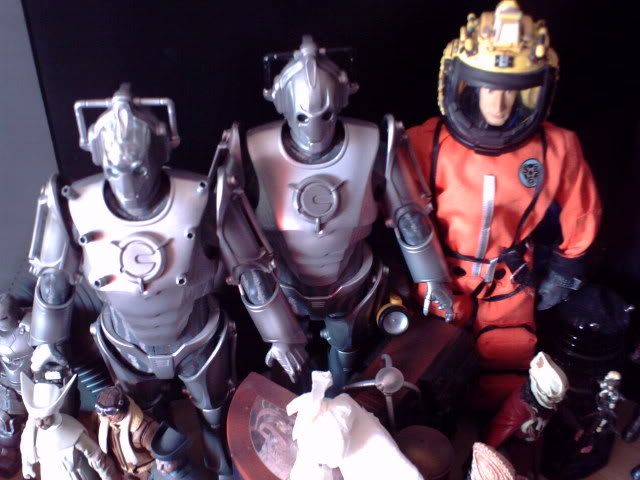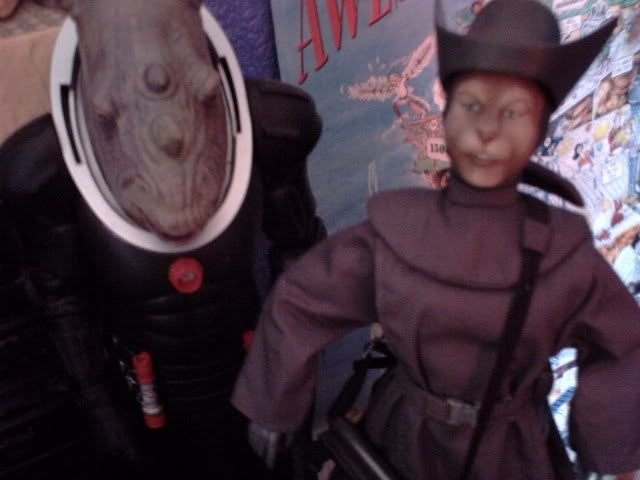 And the bottom of my bookshelf: