This Ninth Doctor is neutral and i wearing a burgandy top. It comes with Mickey Smith's head, anti plastic bomb and auton arm.
Here it is in packing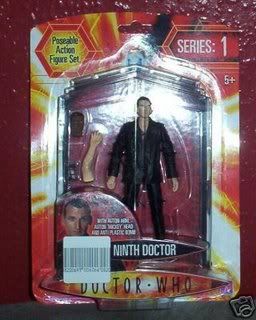 What do you think of it?
To persuade you even more to buy this Martha Jones Fan and DRWHOfan have reviewed it:
Martha Jones Fan
The Ninth Doctor (with Auton Arm, Auton "Mickey" Head and Anti-Plastic Bomb
Just to say, The Ninth Doctor figure is exactly the same one as released before as "The 9th Doctor". Very detailed, fantastic () likeness and excellent articulation.
The accessories are the main part! Auton Mickey's head is a new sculpt with lonegr hair. The Auton arm can grip around necks to make it look like they're being strangled, and the Anti-Plastic bomb can be held by The Doctor.
Overall, a 9/10 from me. They could have used a Black Shirt instead of Burgundy!
DRWHOfan
I got this figure buy one get one free! 9/10! Figure accessories are amazing! New head sculpt for mickey!
Anti plastic bomb has alot of detail! Hand fit's around his neck!! The figure is wonderful compared to the 'disco dancing'
figure! All in all a very good figure!! By the way I think this figure is beoming rare so when you see it BUY IT!!
With thanks to DRWHOfan and Martha Jones Fan for the reviews